The plan included a call for establishing the means for assessing the university's progress toward its strategic goals.
Assessing Progress
In addition to monitoring the implementation of initiatives and objectives, the Strategic Planning Council will track a set of performance metrics and qualitative indicators to measure the impact of these efforts.  Key performance indicators will serve as a tool for gauging the strategic plan's overall impact and success but will not impede the ability of academic units to manage their own internal processes. (UM 2020, p. 28)
In addition, the University of Mississippi was expected to demonstrate its performance on a variety of metrics for a variety of external audiences.  The IHL funding formula contained performance metrics, as did the State of Mississippi Strategic Plan.  In total, over 150 metrics were identified as potential Key Performance Indicators (KPIs) by the Office of Institutional Research, Effectiveness, and Planning.
The SPC officially adopted first year student retention and the 6-year graduation rate as the first Key Performance Indicators, and worked with the appropriate divisions to set goals on these metrics.
KPI: First Year Student Retention
Goal: To meet or exceed the first year retention average among universities in the Southern Universities Group (SUG)
Performance: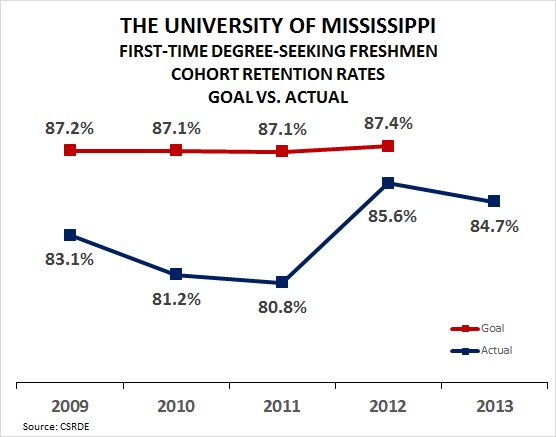 For more information about historical performance, visit IREP Student Success and Outcomes Data
KPI: 6 Year Graduation Rates
Goal: To meet or exceed the 6 year graduation rate predicted by each cohort's first year retention rate
Performance:
For more information about historical performance, visit IREP Student Success and Outcomes Data